Portfolio
Project: Bicycle Hire Station
Services: Hardware and embedded software development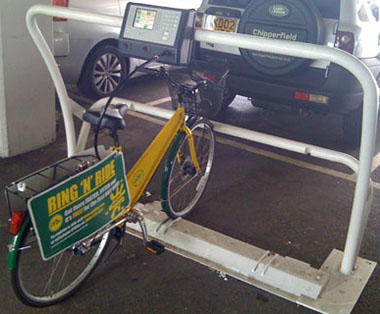 Description
The OYBike System is a street-based bicycle rental station which allows users to hire and return bicycles and is used in cities around the world. After several successful years OY Bike decided to re-design the electronics of their hire terminal to introduce new features and they selected IBEX to provide the new electronic hardware and embedded software design.
Specifications
Design a complete set of new PCB's (Printed Circuit Boards) to provide lock control, bike ID sensing, power supply and user interface functionality.
With power often provided from a rechargeable battery pack all system electronics designed for minimal power consumption and ultra low power sleep states, so that operating times of many weeks are possible between battery changes. Optional solar cell input to recharge the batteries thereby reducing operating costs.
GSM module for data communications to OY Bikes servers.
New LCD screen drive and user interface design solution provided with software support for html, colour graphics and unicode fonts.
Provide PC based application to test all functionlity.
Design using low cost embedded technology for lowest possible production costs.
Provide full manufacture and test documentation.