Portfolio
Project: Store Conversion Rate Display
Services: Hardware, software and enclosure design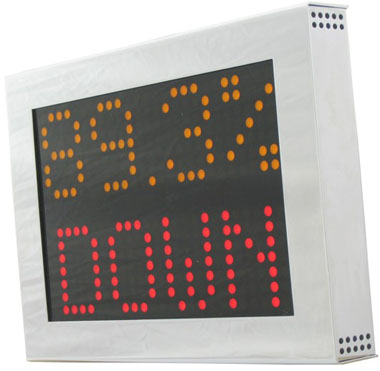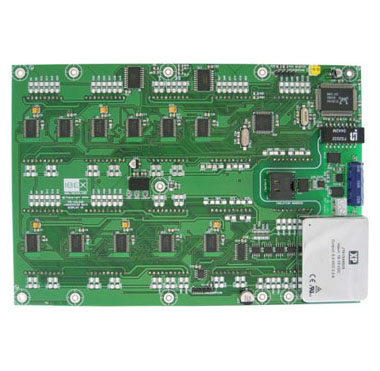 Description
Following on from IBEX's re-development of the StoreTech HeadCount Box, IBEX was commissioned to re-design the StoreTech Conversion Rate Display unit. StoreTech's systems are used in retail outlets to provide retailers with detailed logs of customer movements. The Conversion Rate Display unit is used to provide live information to store staff from the data collected by their system. The existing unit was a basic numeric display and StoreTech wanted to improve on this with a better looking and better functioning product.
IBEX provided the complete electronic hardware, embedded software and enclosure design.
Specifications
Design a new solution to provide easier installation, simpler connectivity and a more attractive appearance.
Utilise dot matrix LED displays to provide a two line display capable of showing both text and numbers. Use tri-colour displays to allow each line to be displayed in red, green or orange colours.
Change the previous RS232 serial port connection to an easier to use and cheaper to install Ethernet interface. In many installations this means that StoreTech can utilise existing cat5 Ethernet wiring, removing the need for expensive new cabling installation.
Design the Ethernet interface to allow the unit to be powered using the latest Power over Ethernet (PoE) technology. This allows the unit to be connected using just a single cat5 Ethernet cable, from which it draws its power as well as the data connection. Careful design of the electronic circuitry, using high efficiency power techniques, to allow the displays to output sufficient brightness for clear readability in bright environments, but without exceeding the PoE current limitations.
Design an attractive chrome enclosure so that the unit is suitable for use in any retail environment.
Design the embedded software to provide simple display of characters, or variable speed scrolling and color changing functions. The Ethernet interface allows the unit to be controlled from an in store computer or via the internet for off site applications.
Design using low cost embedded technology for lowest possible production costs.
Manufacture a complete prototype unit to allow StoreTech to evaluate the design and demonstrate it to potential customers before the production units became available.
Design a simple engineer PC application to be used on site and via the internet to configure and test the unit.
Provide full manufacture, test and user documentation. Provide secure web site area with all engineering files for download by clients manufacturers.