Portfolio
Project: HeadCount Box
Services: Hardware, software and enclosure design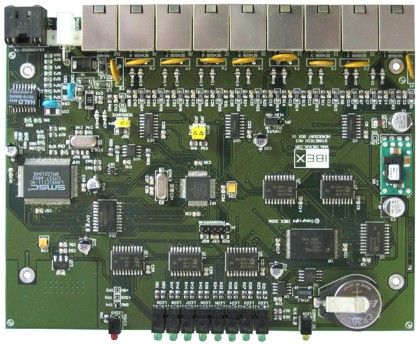 Description
The StoreTech MK3 HeadCount Box is an intelligent people counting sensor interface unit with on-board real time logging and Ethernet connectivity. It is used in retail outlets to provide store owners with detailed logs of the number of people entering and leaving their store and optional dwell time logging of people at specific locations in the store.
IBEX provided the complete electronic hardware, embedded software and enclosure design.
Specifications
Design a new solution to supercede the clients existing sensor interface unit, including a new Ethernet communications interface and improved logging functionality.
Source a suitable enclosure and design a surface mount PCB (printed circuit board) module to fit. Design front and rear aluminum panels and printed artwork.
Design using low cost embedded technology for lowest possible production costs.
Include a 10/100Base-T Ethernet port for fast Ethernet network communications to remote PC's via the internet.
Design a TCP based communication protocol for the client to implement into their PC software for log file retrieval and subsequent analysis.
Include non volatile logging memory to provide long term storage of 48500 individual logs.
Flash program memory to allow the units software to be upgraded via the internet.
Include power switching of the sensor outputs allowing an engineer to remotely hard reset all of the sensors if required.
Design an engineer PC application to be used on site and via the internet to configure the unit, test sensor inputs and download log data.
Provide full manufacture, test and user documentation. Provide secure web site area with all engineering files for download by clients manufacturers.