The Jabra at 9350E is a brilliant DECT headset. It works as both a wireless USB audio headset for a PC and a wireless telephone DECT headset. Jabra also do the 9330 models which provide just one of these functions. We find the audio quality really good and also use it with Dragon Naturally Speaking for voice to text transcription.
The one thing that is really annoying about it though is that as a phone it doesn't have a normal phone line connection. Instead you have to connect it to an existing phones handset connection. The Jabra then mimics the handset. The thing that's really annoying about this is that when you want to make or receive a call you have to press a button on the Jabra and also lift the phones handset so that the phone accepts the call. You can get round this by buying an expensive mechanical phone lifting device, which is a pretty ridiculous need in this day and age, or by using a specific model of office phone which has the right interface. Alternatively it is possible to connect the headset to another DECT base station, but once you do this the headset is no longer works as a PC USB audio headset, so basically a pointless feature.
A simple way round this if you've got geek tendencies is to instead interface it into a cheap phone using the following circuit: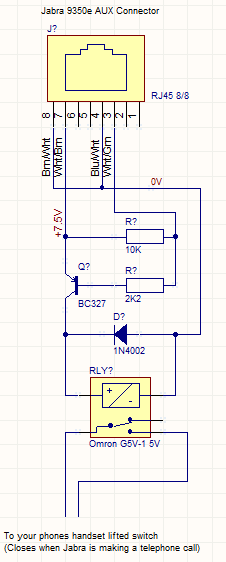 We created this circuit by metering out the Jabra RJ45 AUX connector, so use it at your own risk! No liability accepted if you manage to blow up your Jabra!
Pins 7&8 of the AUX connector provide a constant 7.5 V power output. Pins 3&4 change from open circuit to short-circuit (80ohms) when the Jabra is in 'on the phone' mode. This is likely to be an internal relay contact as you can hear a relay clicking inside the unit, but we didn't open the unit up to confirm this. The relay, diodes, transistor and resistors in the circuit shown can be soldered together and fitted inside or next to your normal phone, with an RJ45 cable (e.g. cat 5E ethernet cable) connecting into the Jabra Aux port.
With this hack to jabber headset is now perfect. Pressing the telephone button connects the headset to the phone and triggers the phone as if the handset had been lifted. Pressing the telephone button again closes the call. Press the computer button on the headset connects to your PC for use with Skype, Naturally Speaking, etc, etc.
USEFUL?
We benefit hugely from resources on the web so we decided we should try and give back some of our knowledge and resources to the community by opening up many of our company's internal notes and libraries through mini sites like this. We hope you find the site helpful.